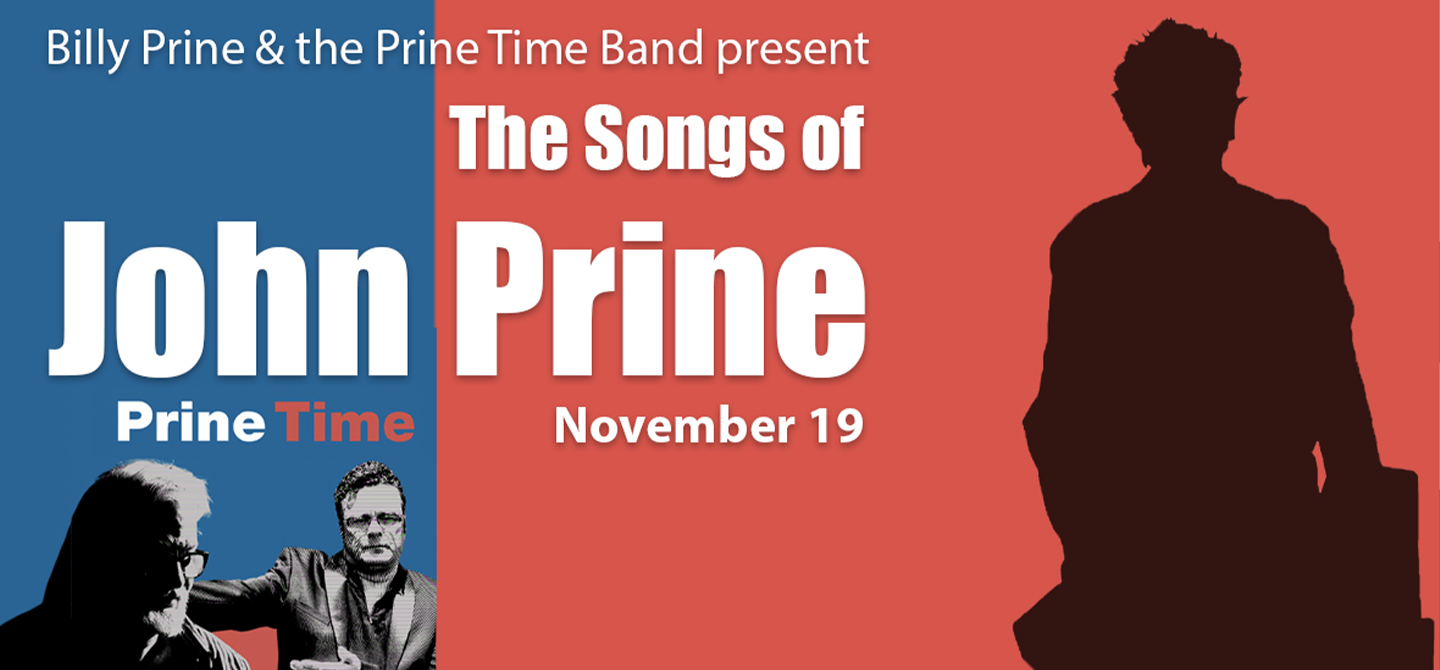 Billy Prine and
the Prine Time Band
With Special Guest Jason Wilber from the John Prine Band
Billy Prine and
the Prine Time Band
With Special Guest Jason Wilber from the John Prine Band
Billy Prine is a natural-born storyteller just like his late, great brother John Prine was a natural-born songwriter. John was a great communicator of the human experience whittled down to the best words. His big, little brother, owner of a rich, booming voice yet full of subtleness, is one of the finest orators you'll ever hear – also choosing just the right turn of phrase.

During these concerts celebrating John's life in song, Billy will tell stories about or surrounding some of John's most beloved songs before leading his band through his version of John's timeless masterpieces. As an example, fans will get to hear the first time John played his classic song "Paradise" for their father as the family sat around the kitchen table.

Songs are stories, novellas, if you will, and stories often become songs. It is only fitting that in the course of each show during this tour, that Billy relates – as only he can – the stories that surround the songs of his dear brother John.
Billy Prine

Billy Prine (the younger brother of John Prine) formed and led his first bar band in Chicago at the tender age of twelve. Chicago in the 1960's and early 1970's was wide open, just as FM radio was evolving, with all types of music, but especially the blues from the famed Chess Records and country music with the National Barn Dance, which was a precursor to the Grand Ole Opry. Growing up in such a rich musical city allowed Billy to develop his unique style of American roots music and absorb a myriad of influences firsthand by seeing Buck Owens and the Buckaroos, The Rolling Stones and Chicago's innumerable blues legends such as Howlin' Wolf, Paul Butterfield, Muddy Waters, Michael Bloomfield, and many more.

Jason Wilber

Jason Wilber is an American singer, guitar player, songwriter, and recording artist. In addition to his work as a solo recording artist, he is also known as the long time lead guitar player for singer-songwriter John Prine. Other artists Jason has accompanied live or in the studio include Iris Dement, Greg Brown, Tom Russell, Sheryl Crow, Mary Gauthier, Todd Snider, Simrit, Hal Ketchum, Tim Grimm, Krista Detor, Greg Trooper, Carrie Newcomer, Kim Fox, Bill Wilson, and Over the Rhine.