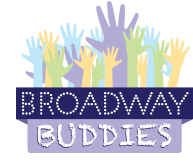 An opportunity for underserved youth to experience professional Broadway Theatre at the Opera House!
Sponsored by White, Greer & Maggard Orthodontists
2017-18 Broadway Buddies Production:
COMING SOON
along with pre-theatre Opera House backstage tour and class

Meet last year's Broadway Buddies:
4 Kids
Adopt an Art – Mary Todd Elementary
Auxiliary from Peter Claver
Common Good
Family Care Center

Want to Support the next Broadway Buddies Class?
Donations and sponsorships are always being accepted for the upcoming season and can be made by calling Shannon Elliott at the Lexington Center Ticket Office, (859) 233-4567 ext.3731
Want to participate?
Interested in applying for participation in the Broadway Buddies program this season? Stay tuned for the announcement of the 2017-18 Broadway Buddies program.