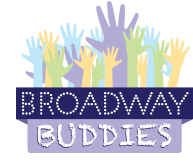 An opportunity for underserved youth to experience professional Broadway Theatre at the Opera House!
Sponsored by White, Greer & Maggard Orthodontists
2017-2018 Broadway Buddies Production:
Sunday, November 19th, 2017 - 6:30pm
along with pre-theatre Opera House backstage tour and class on
Tuesday, Nov. 14th from 6:00 – 7:30pm
Want to Support
Donations and sponsorships are always being accepted for the upcoming season and can be made by calling Shannon Elliott at the Lexington Center Ticket Office, (859) 233-4567 ext.3731
Want to participate?
Interested youth groups can apply now for participation in the Broadway Buddies program.
Criteria for qualification:
Members of your group must be between the ages of 12 to 18 years of age
Your organization must provide transportation and one adult chaperone for every 8 youth
Copy of IRS tax designation as a 501c3 (not-for- profit) organization
Applications must be received by October 20, 2017
Selected organizations will be notified by November 1, 2017 and offered more detailed information and instructions. We hope you are interested in our arts and education outreach program.
Apply to be our BROADWAY BUDDIES today!